GCTU Student claims first runner-up prize in national technology contest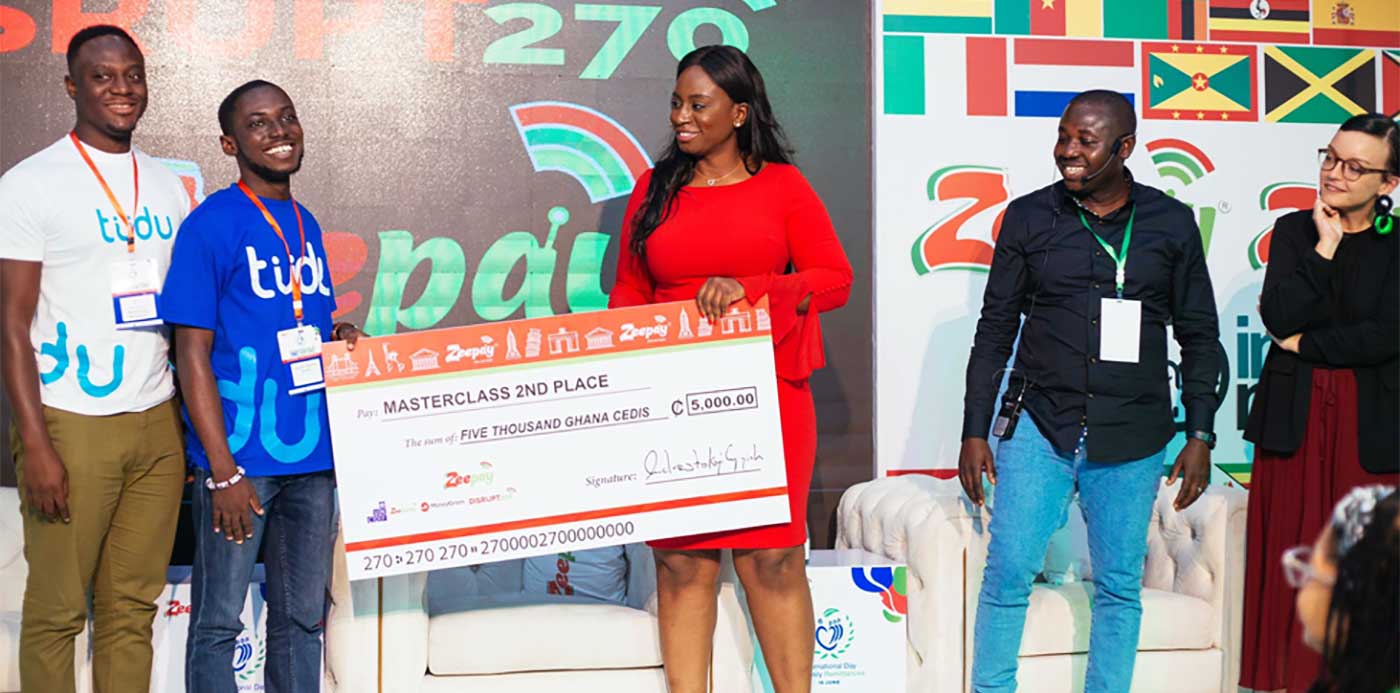 We are happy to inform the University Community that one of our own, Joseph Ekpaha Kwofie, a Level 300 BSc. Telecommunication Engineering student was recently adjudged first runner-up at a technology startup masterclass dubbed STEPOUT.
Joseph is the CEO and Co-Founder of Tudu Technologies, a thriving e-commerce startup. He created Tudu Technologies with the help of his friend and mate, Enoch Aboagye Assiamah (Co-Founder). While in Level 100, Joseph and his friend Enoch saw an opportunity in the e-commerce space (online buying and selling) and decided to create a solution to help businesses and customers meet virtually and transact business rather than using the traditional approach of moving from shop to shop; Tudu was thus founded in 2019.
In June this year, Joseph was invited to enter the STEPOUT competition sponsored by Zeepay Company Ltd. The competition pitched Tudu Technologies against other startups in the technology space and after two days of intense competition, Tudu Technologies emerged first runner-up. For their effort, they took away a cash prize of GHS 5,000.00.
After claiming the prestigious prize, Joseph was selected to be part of the final pitch event for the MEST (Meltwater Entrepreneurial School of Technology Africa) Express Accelerator, where he'll be showcasing his revolutionary application to the entire nation. In addition, Joseph has also been invited to participate in a number of technology seminars, fairs and conferences.
Joseph credits his achievement to his lecturers, particularly Dr. Jacob Adopley who taught him and his classmates how to code efficiently using less memory and faster loading software among others. Joseph learned as much as he could and added that knowledge to his practical skills which he acquired by practicing coding on his own.
Speaking on the long-term goal for Tudu, Joseph said,"I believe Tudu is just the beginning. I really want to grow the business and build more solutions for Africa and become one of the biggest entrepreneurs on the continent". 
Including the co-founders, the company currently has 10 employees, most of them being students. Joseph intimated that he would love to see the company expand to other parts of Africa and create employment for a lot more people.
The Tudu App is on the Google Play Store and the App store for free download.
On behalf of the University Council and Management, we congratulate Joseph Ekpaha Kwofie for bringing honour to himself and GCTU. The sky is the limit!