36 Honoured At GCTU/Coventry Alumni Association Top Achievers Awards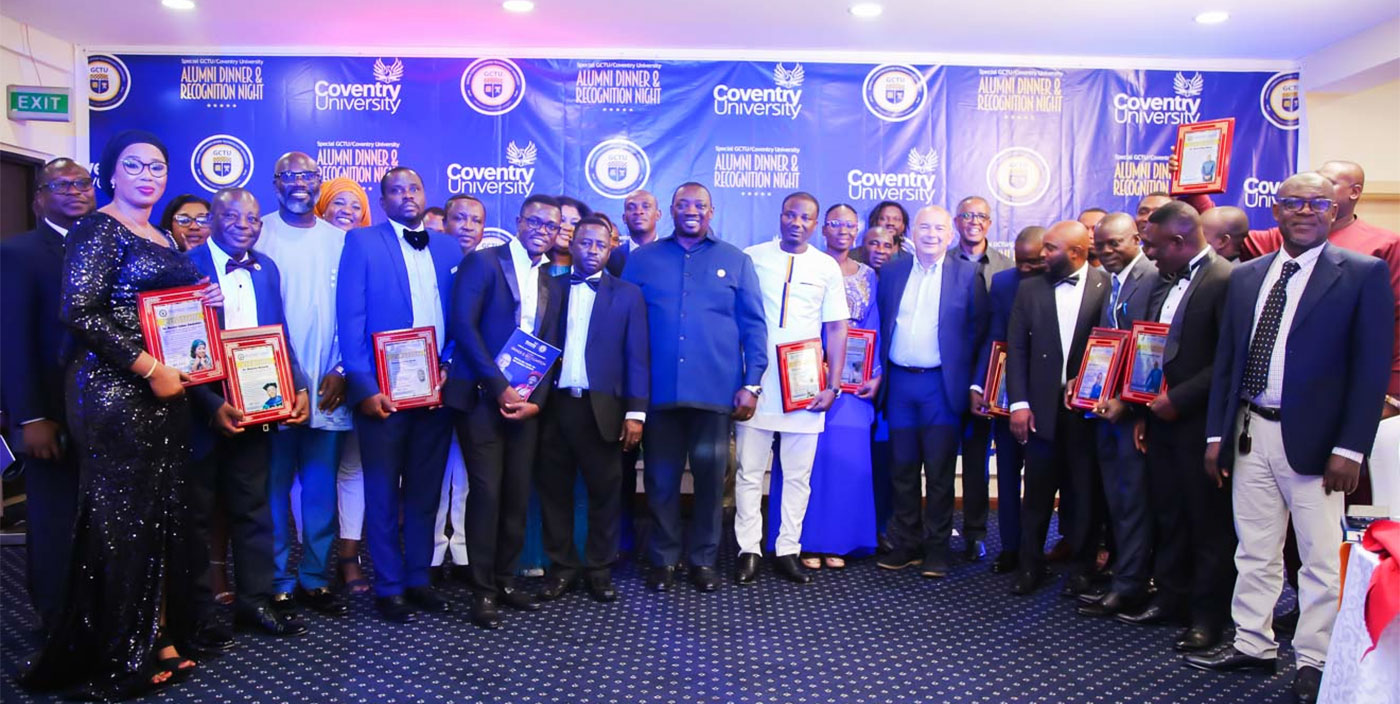 36 alumni of the Ghana Communication Technology University have been awarded at the 30 Top Achievers Awards event organized by the Alumni Association of the University on 29th August 2022.
The awardees were selected based on their contributions to the growth and development of Ghana and their alma mater, GCTU since leaving school, taking away some beautiful plaques and citations.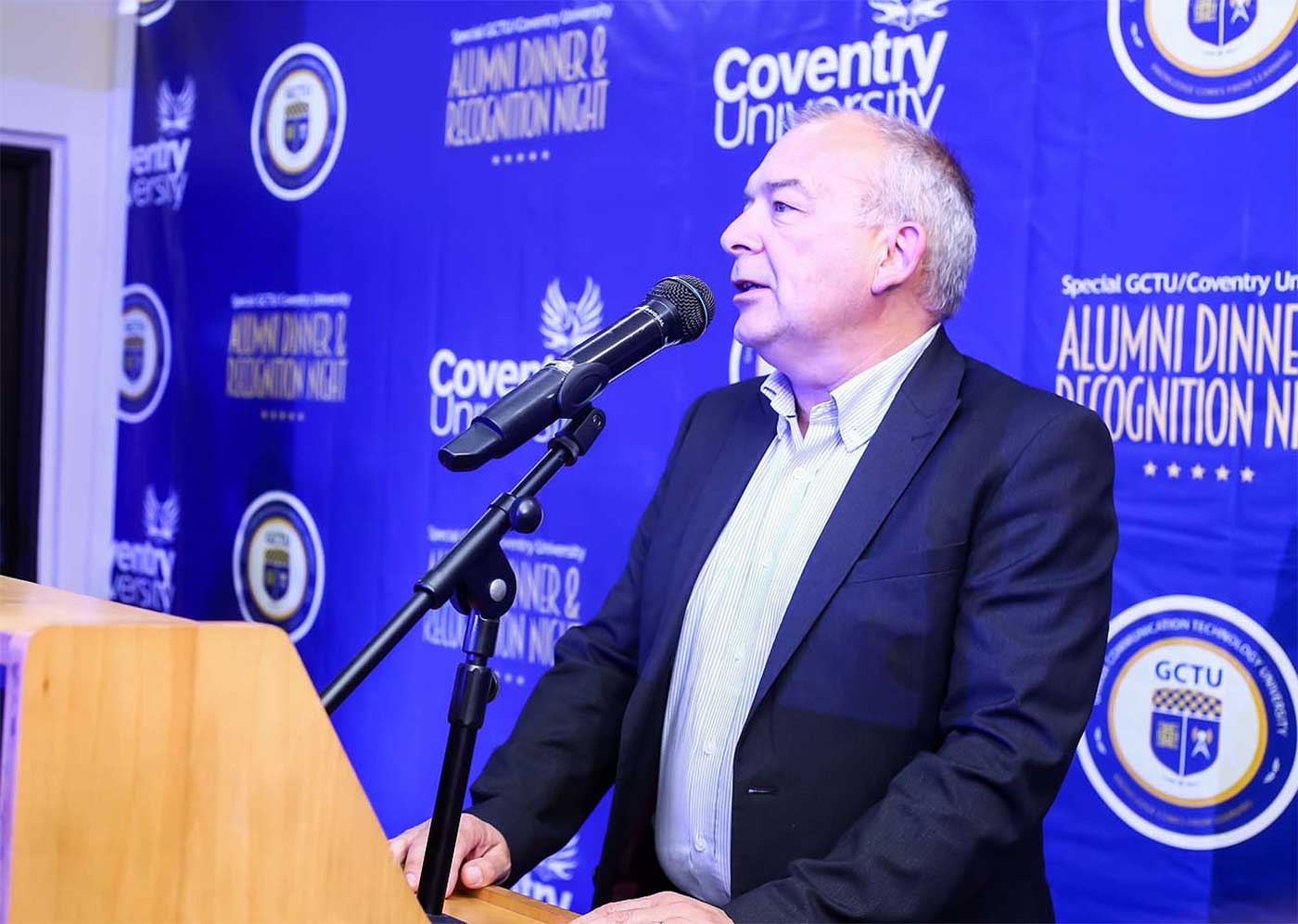 The Special Guest of Honour for the event was the visiting Vice-Chancellor of Coventry University and CEO of the Coventry Group, Professor John Latham, who is in the country to among other things, explore new ways to strengthen the Transnational Education Collaboration between Coventry University and GCTU.
Awardees
On the honours list were Hon. Umar Farouk Aliu Mahama, Member of Parliament for Yendi; Eng. Mark Affum Amoamah, Transport Manager, SSNIT; Dr. David King Boison, Head of Department/Senior Lecturer, GCTU; Dr. Nusrat-Jahan Abubakar, Director of University Relations, GCTU; Dr. Alex Adomako-Mensah, Member of Parliament for Sekyere Afram Plains; Dr. Benjamine Yeboah Sekyere, Member of Parliament for Tano South; Sandra Owusu Ahinkorah, Municipal Chief Executive for Ayawaso West Municipal Assembly; Moses Afetsi Positive, CEO, Mican Company Ltd; Michael Kwasi Aidoo, Pricing and Risk Manager, Bulk Oil Storage and Transportation Ltd and Richard Darko, Press Secretary, Office of the First Lady.
Others were Ing. Oliver Acquah-Techie, CEO, First Sky Ltd; Charles Kofi Okrah, Director, African Bagg Ltd; Francis Eric Pobee, Managing Director, Powertech Electrical Engineering Works; Felix Lorho Mensah, Store Supervisor, Kasapreko Company Ltd; Dr. Lord Emmanuel Yamoah, Lecturer, Takoradi Technical University; Muslim Alhassan Saeed, Manager, J. K. Ahiadome Transport & Co. Ltd; Dr. Jethro W. Brooks Jr, Ag. Vice-Chancellor, Regional Maritime University; Emmanuel Kojo Apedo, CEO, Emmaldo Gh. Ltd; Saeed Alhassan Saeed, Operations Manager, JK Ahiadome Transport & Co. Ltd and Bernice Enyonam Gavor, Customer Development Excellence Manager, Upfield.
The rest were Adams Zuwii, Head of Procurement, Ghana Education Service, Headquarters; Brigitte Thara Mills, CEO, Mulan Smart Education Center; Dr. Robert Kwaku Tay, Deputy Director Procurement and Stores Department, Driver and Vehicle Licensing Authority (DVLA); Jennifer Atanga Akongbota, Head of Procurement, Coastal Development Authority (CODA); Wilfred Kwame Addo, IT Officer, GCB Bank Plc; Dr. Ugonna Udunwa, Data Platform Manager, eProcess International, S. A; Debra-Jane Nelson, Managing Director, Think Mahogany Events; Dr. Kankson Kpentey, Sourcing Specialist, Stanbic Bank Ghana Ltd; Angela Nana Serwah Awere-Kyere, Director Procurement & Stores, Ghana Standards Authority; David Ayisala, Manager Procurement, Graphic Communications Group Ltd; Alhaji Dr. Chief Musah Osumanu Doumbia, Chairman of ATU Convocation/HOD, Accra Technical University; Saaka Ibrahim Salifu, Head of Operations, Tata International/Alliance Motors/John Deer; Dr. Ruhiya Abubakar, Head of Electrical and Electronics Engineering Department, GCTU; Prince Charles Afun, Procurement Manager, Bulk Oil Storage and Transportation Company Ltd; Dr. Vera Graham Asante, Director, General Administration and Operations, GCTU; Nana Agyeman-Prempeh, Lecturer, GCTU and Dr. Noble Agyapong, Lecturer, GCTU.
Other awards were presented to distinguished personalities who played various roles in their academic development. They include Prof. Emmanuel Ohene Afoakwa, VC, GCTU; Prof. John Latham, VC, Coventry University and Dr. Ebenezer Malcalm, Dean of the School of Graduate Studies and Research.
Accepting the awards on behalf of the awardees, Hon. Umar Farouk Aliu Mahama promised the support of the GCTUAA to "help the growth of this outstanding institution". He said further that "it does not surprise me that GCTU has been recognized as Africa's premier institution for capacity building in Procurement and Supply Chain 2022. Together we will expand and improve GCTU and Coventry in Africa".
The Special Guest of Honour, Prof. John Latham, expressed his delight at what he saw.
"It is unbelievably satisfying to see how successful you have been. In essence, you are why universities exist. You are there to support the journeys of yourselves but also the journey of the economy in which you work or operate".
He underscored the importance of university education in the economic development of a country saying: "most people think that universities are just an organization for providing education and research, but actually if you look at what you do as individuals – whether you work in the public sector or the private sector, your life, your achievements are all around economic development. Therefore, as a key part of economic development, universities play a key role in the economy".
He also urged the alumni association not to forget or neglect the institution that nurtured them.
"What we like to see is people like yourselves keeping in touch with your own institutions and supporting their onward development and recognition of the achievements they have made", he added.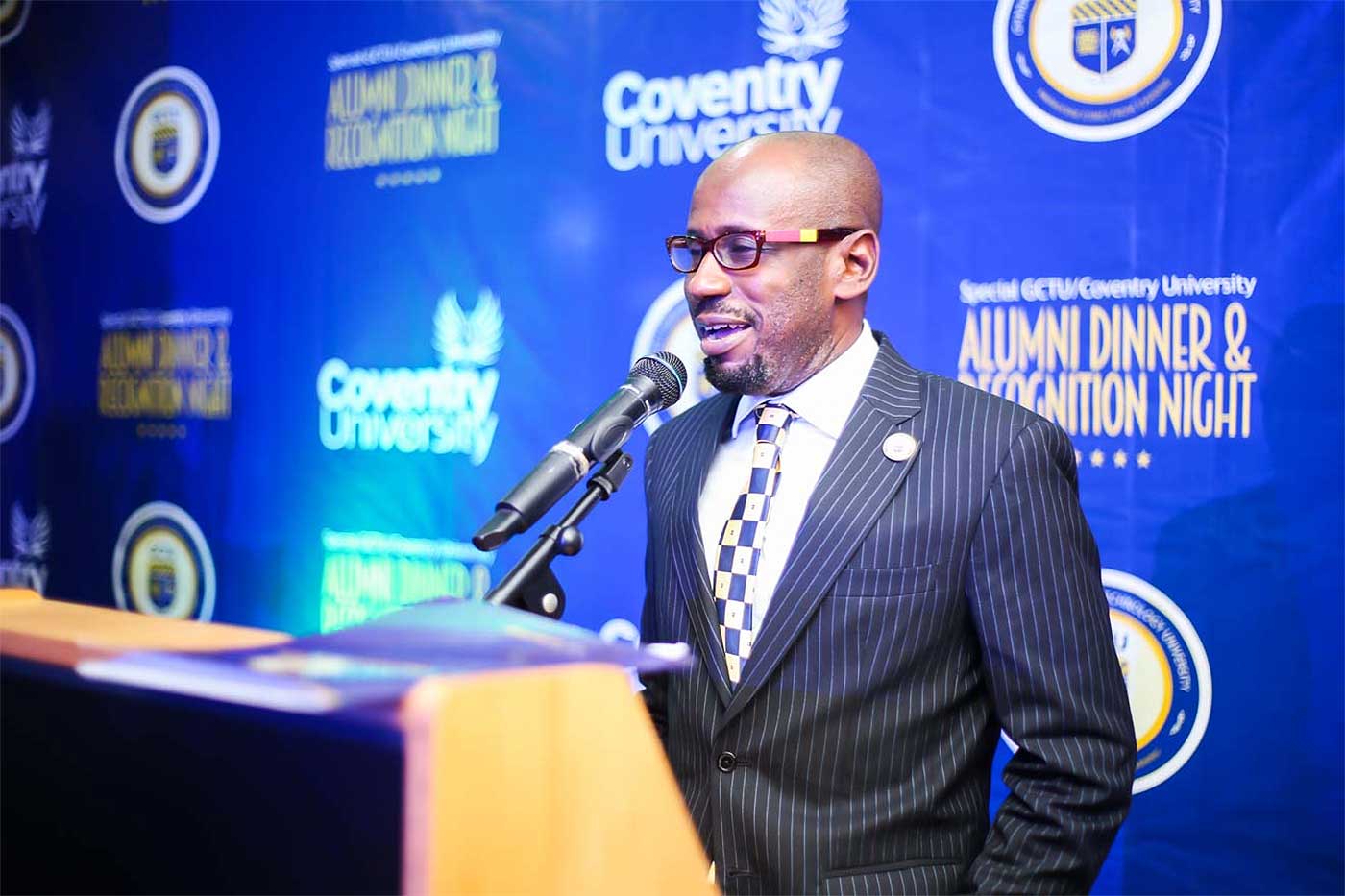 Central to the awards dinner was a fundraising exercise conducted by the Pro Vice-Chancellor of GCTU, Prof. Robert Ebo Hinson. Various amounts of money were pledged toward the development of the university, and the massive support demonstrated the Alumni Association's dedication to the University's growth.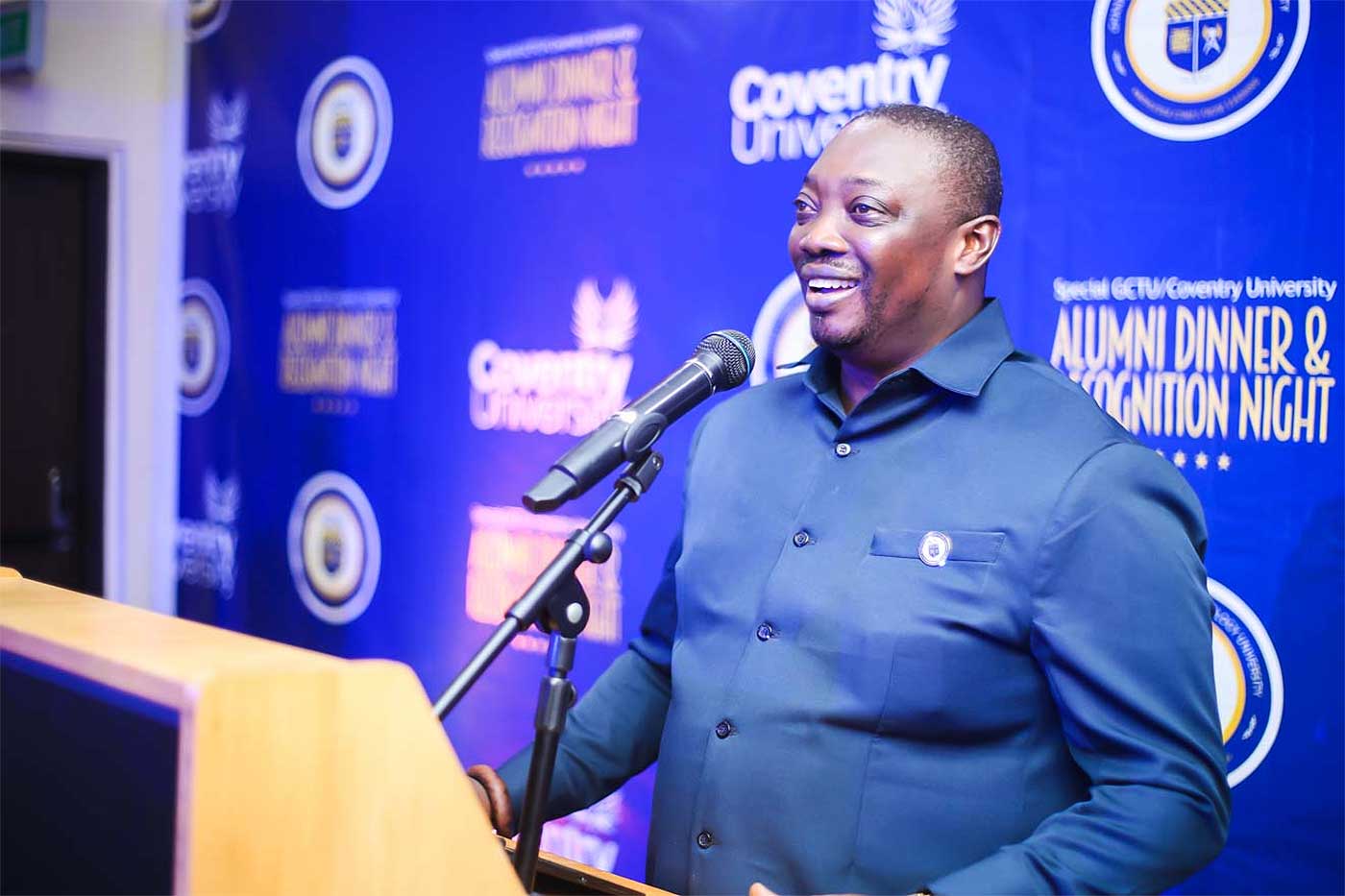 The Vice-chancellor of GCTU, Prof. Afoakwa in his closing remarks praised the Alumni for making the occasion possible. He was happy with the enthusiasm exhibited by the association in receiving his request to utilize the Coventry University VC's visit to organize a GCTU/Coventry alumni dinner event and invite him as a guest speaker so that he can experience and appreciate the value of the GCTU/Coventry partnership. He also alluded to the importance of such an event, in terms of the platform it created to raise funds to purchase urgently needed logistics and teaching aid for the lecture rooms.
He praised the Alumni profusely for pulling off the organization of the event within the short space of two weeks, admitting that, currently, GCTU was not in the position to organize such an event, thus providing the rationale for his decision to fall on the Alumni association.
Prof. Afoakwa concluded his closing remarks by paying tribute to the Council Chair, Prof. Kofi Awusabo-Asare, for his massive support and the inspirational role he has played during his tenure. He stated, "I would want to thank all those who contributed in many ways to make this a success, especially my Council Chair who has been a pillar of support. With him, all I need to do is to dream. Once I dream and he knows it's a good dream, I have his support. He does this because he wants to see the institution grow to become the Silicon Valley of Africa – this is our vision".
The event was a major success, evidenced in particular by the massive support shown by the Alumni during the fundraising section of the programme. Undoubtedly, the contributions made will only go towards the further growth and the development of the University and we are confident that the Vice-Chancellor's vision is well on the way towards being realized. We also congratulate our distinguished Alumni for their excellent achievements in their various fields and industries, they are true ambassadors of their alma mater!
Awardees in Pictures