Research Capacity Building Workshop Series – (virtual)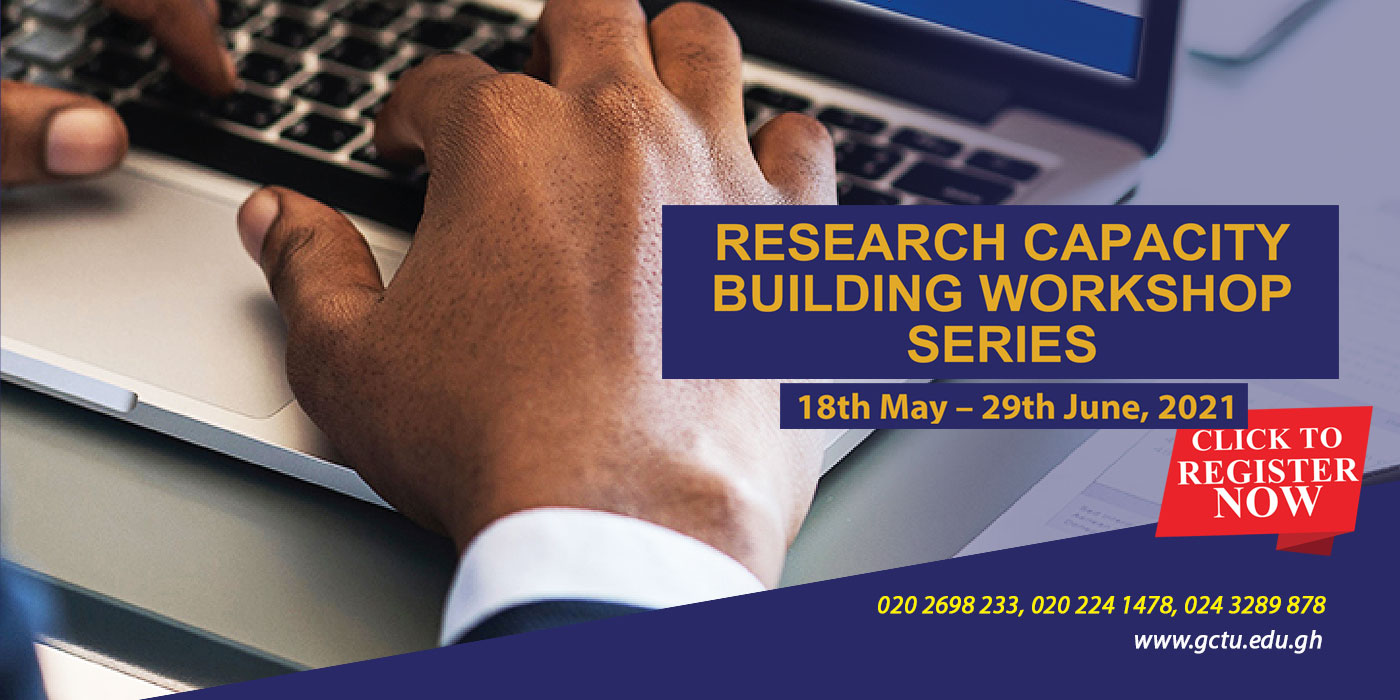 The Office of the Pro Vice-Chancellor, Office of Research Services and Innovation, the Centre for Professional Development and the University Teachers Association of Ghana (UTAG) – GCTU at Ghana Communication Technology University are inviting the general public to a workshop series on Research Capacity Building.
AIM: The aim of this workshop is to build and strengthen the capacity of academic and non-academic individuals in rigorous research, publication and grant proposal writing.
OBJECTIVES:
At the end of the workshop, participants are expected to:
Gain a deeper understanding on how to conduct research and develop competency to engage in a quality, rigorous and sustainable research agenda.
Gain an appreciation of strategies to identify and publish in reputable publication outlets.
Gain an appreciation of strategies to identify and write successful grant proposals.
The details are as follows:
Date:     18th May – 29th June, 2021
Days:  Tuesdays and Thursdays, 2pm – 4pm each day
Mode:   Virtual (via Zoom link)
Duration: 2 hours per session for 13 sessions (participants may choose to participate in all sessions or selected areas of interest.
Fee:      GHC 1,500.00 full package / GHC 150.00 per session (Certificate will be awarded)
Payment Mode: Via MTN Mobile Money (details to be provided upon registration)
Note:  Discount packages available for group participation 
Participants will have the option of participating in all areas of interest.
     WORKSHOP CONTENT
The workshop is in three parts with each part consisting of sessions covering Research,
Publication and Grant Writing.
Part 1: Enhancing Knowledge in Research  ( 6 sessions)
Session

 

Date
Topic
 1
Tuesday18th May,2021
Developing successful and sustainable research agenda.
 2
Thursday 20th May,2021
How to select a research topic and problematize your research idea.

3

Tuesday 25th May,2021
Strategies for writing scholarly publications: Improving your research writing skills
4
Thursday 27th May,2021
Interdisciplinary and collaborative research. Tips for a successful partnership
5
Tuesday 1st June,2021
Using contemporary online tools and techniques to enhance research, data collection and analysis.
6
Thursday 3rd June,2021
Ethics: Dos and Don'ts of research: Ethics and copy right issues.
Part 2: Publication  ( 4 sessions)
Session

 

Date
Topic
 1
Tuesday 8th June,2021
Habits of highly successful researchers.
2
Thursday  10th June,2021
Selecting appropriate outlet for publishing research.

3
Tuesday 15th June,2021
Publishing in scientific journals – What editors look for.

4
Thursday  17th June,2021
Publishing in social science and humanities journals – What editors look for.
Part 3: Grant Writing  ( 3 sessions)
Session
Date

 

Topics

1

Tuesday 22nd June,2021
Researching and identifying funding sources.

2

Thursday 24th June, 2021
Writing winning grant proposals: elements of a successful grant proposal.
  3
Tuesday 29th June, 2021
How to manage grants.
Target Audience
This workshop targets:
 Faculty members
 Researchers

 Employees of private organization and non-profit organizations(NGO's)
 Employees of government agencies

Anyone who wishes to improve on his/her research, publication and grant writing skills.
Facilitation
The workshop series will be held online and facilitated by both local and internationally recognized resource persons who are experts in the field of research, publication and grant writing.
Registration
 To register, kindly visit www.gctu.edu.gh/orsi or email us at orsi@gctu.edu.gh to request registration form or for further details.
Registration begins on 28th April, 2021
Contact us on:  020 2698 233, 020 224 1478, 024 3289 878