Invitation To Female Researchers And Academics Workshop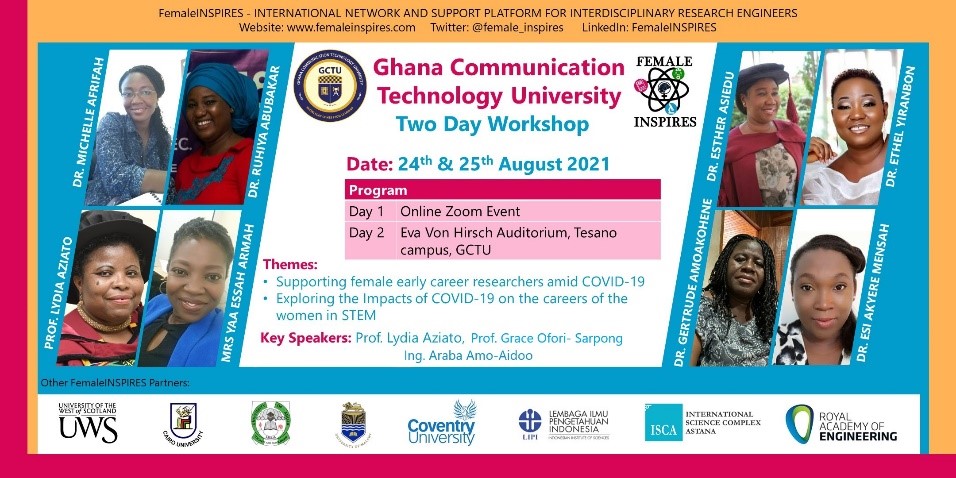 We wish to inform the University Community that as part of the FemaleInspires Project, GCTU will play host to a 2-day workshop for female researchers and academics.
The workshop, which is open exclusively to female lecturers/researchers and students, will be held as follows:
Date: Tuesday 24th August 2021-Wednesday 25th August 2021
Time: 9am – 3pm each day
Venue: Day 1- virtual (via zoom)
Day 2- Eva Von Hirsch Auditorium, Main Administration block, Tesano
Campus, GCTU
The workshop is based on 2 specific themes, namely:
"Supporting female early career researchers amid COVID-19"
AND
"Exploring the Impacts of COVID-19 on the careers of women in STEM"
The key speakers for the workshop are:
Prof. Lydia Azato – Associate Professor/ Dean- School of Nursing and Midwifery
Prof. Grace Ofori Sarpong- Associate Professor/Dean – University of Mines and Technology
Ing. Araba Amo Aidoo- Energy Engineer
The workshop is also being internally facilitated by a team from GCTU including:
Dr. Ruhiya Abubakar
Dr. Michelle Afrifah
Dr. Esi Akyere Mensah
Dr. Ethel Yiranbon
Dr. Esther Asiedu
Dr. Gertrude Amoakohene
Mrs. Yaa Essa Armah
Below are the registration links for the event:
Day 1
https://www.eventbrite.co.uk/e/workshop-day-1-ghana-communication-technology-university-tickets-164997920221
Day 2
https://www.eventbrite.co.uk/e/workshop-day-2-ghana-communication-technology-university-tickets-165255921911
Alternatively, those interested in participating can also register by calling/WhatsApping Dr. Michelle Afrifah on +233 50 150 9519. The first 20 participants to register will receive a beautiful souvenir at the end of the workshop. Certificates of participation will also be given.
We look forward to seeing all our GCTU ladies there!