Vision 20 By 30 Launched!!!
The vision of the Vice-Chancellor to have 20 lecturers become professors by the year 2030 was given life when on Friday 1st April, 2022, he launched "Vision 20 by 30".
The VC announced at the annual Breakfast Meeting in January 2022 that as part of his strategic vision, he intended to mentor 20 PhDs to become professors.
Launching the initiative, he reiterated his vision saying "I am very excited today has come. As part of my vision towards the transformation of this university, I made it clear in January during the Breakfast meeting that I am personally going to take it upon myself to ensure that before I leave as VC, I want this university to have at least 20 professors from within.
"I specifically termed it vision 20 by 30 not because I intend to stay till 2030 since an eight year term will end in 2029. I intend that if I have to leave this university in 2029, I must be able to mentor at least 20 professors to leave a legacy".
A total of 31 lecturers and senior lecturers have enrolled to undergo the mentorship programme. The VC said even though they had exceeded his target by 11, he could not leave any of them out adding that "if we do our things right, everyone will become a professor".
According to the VC "Vision 20 by 30" is part of a grand vision to transform GCTU into a world class university of excellence in ICT and Technology and to improve the rankings of the university both locally and internationally.
"To get a world class university status, one of the criteria is the number of professors they have. The best ranked universities is because of the number of professors conducting research, teaching, extension and service".
The VC put together a team of coaches; Prof. Alfred Coleman, Prof. George Kofi Amoako and Prof. Ivy Drafor-Amenyah to support his vision. He explained that their roles will be to each mentor a group of prospective candidates, providing them direction and counsel.
All 31 candidates were put through an exercise called "Construction of your Purpose Roadmap" where they were asked to each write on a paper what their purpose in life is and how they hope to achieve it. At the end of the exercise, four candidates, selected randomly, read out what they had written.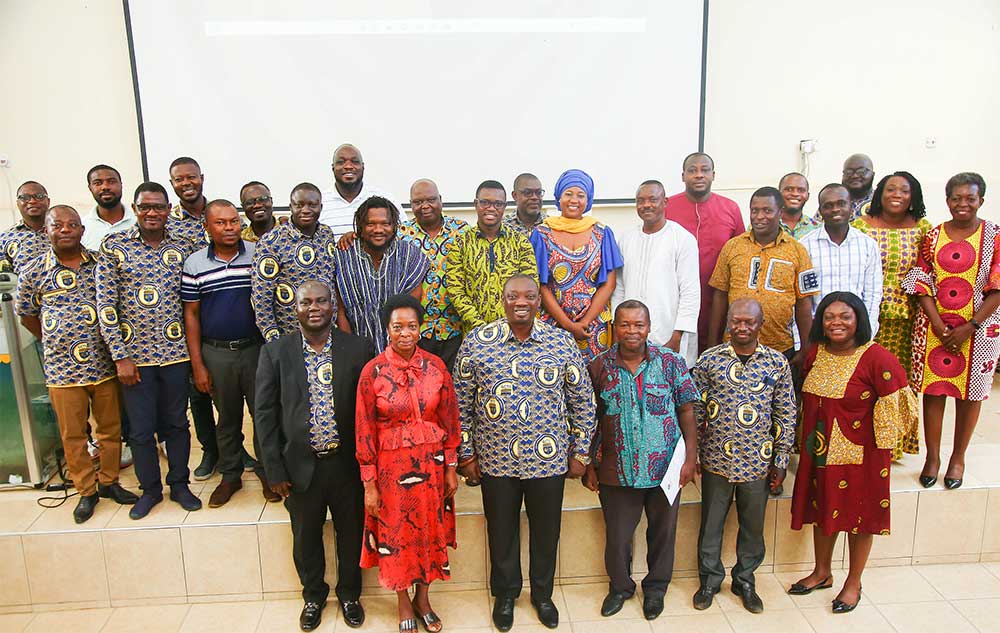 Prof. Ohene Afoakwa threw more light on the modalities and guidelines for the mentorship programme which will run for the next several years.
"You will be divided into three groups. I am the overall mentor but the coaches will be working with you on a regular basis. So when you are writing a paper and you need some advice or support, they are the ones that are very close to you. Because of my role as the VC you can't always get me so I can't put myself on that assignment".
According to the VC, 66 to 70 percent of what is required to progress to the rank of professor is not regulated within the university. He said you can be the best teacher in the university for many years and win awards but that will not be enough to get you promoted. "What will take you to the next rank is your research and extension of knowledge to the rest of the world. Therefore your value as a professional is counted more on how much you add to the body of knowledge in the world" he said.
He therefore advised the mentees to register with Academia, Research Gate, World of Science, Google Scholar Citation etc to get their research published for wider and easy access.
Prof. Coleman, speaking on behalf of the team of coaches, urged the mentees to keep focus and not be distracted by family and social activities around them. He advised them to maintain 80% anti-social and 20% social lifestyles to help them achieve their goals of becoming professors.