Notice To 2020 Graduating Students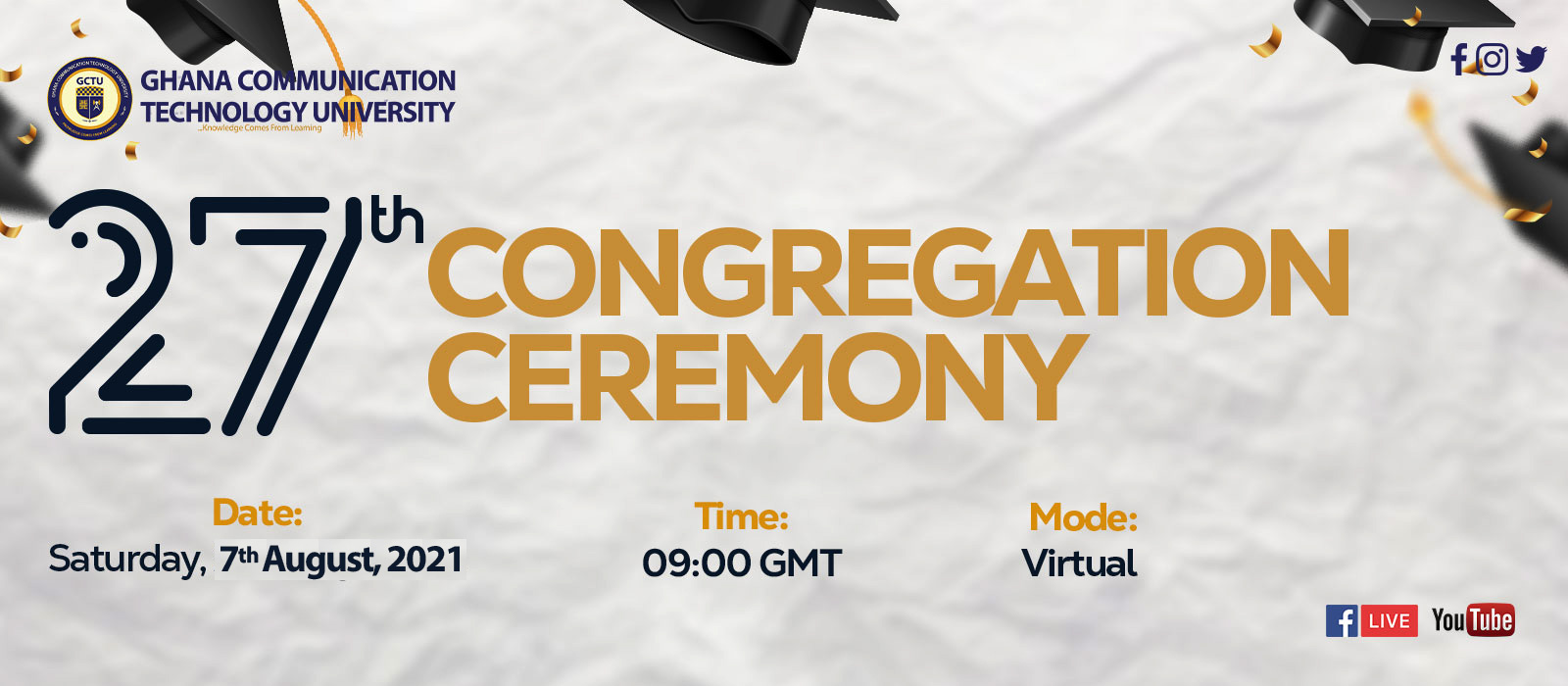 All Graduating Students are hereby informed that the Congregation for the 2019/2020 Graduands comes off on Saturday, 7th August, 2021 at 9am prompt. Attached is the Graduation Protocol Guide for your attention.
Further, kindly note that this Congregation will be virtual, in line with the President of the Republic of Ghana's directive in his 26th COVID-19 Address to the nation. Finally, be informed that your certificates will be ready for collection from Monday, 9th August 2021 at the Academic Affairs Directorate.


Faculty of Engineering (FoE)
|  Programme | Details |
| --- | --- |
| BSc. Telecommunications Engineering (2019/2020) | View List |
| BSc. Telecommunications Engineering (2018/2019) | View List |
| BSc. Computer Engineering (2019/2020) | View List |
| BSc. Computer Engineering (2018/2019) | View List |
Faculty of Computing & Information Systems (FoCIS)
|  Programme  | Details |
| --- | --- |
| Diploma in Information Technology (2019/2020) | View List |
| Diploma in Information Technology (2018/2019) | View List |
| BSc. Information Technology (2019/2020) | View List |
| BSc. Information Technology (2018/2019) | View List |
Faculty of IT Business (FoITB)
|  Programme  | Details |
| --- | --- |
| Dip. in Bus. Admin (Public Relation Mgmt) – 2019/2020 | View List |
| Dip. in Bus. Admin (Marketing) – 2019/2020 | View List |
| Dip. in Bus. Admin (Management) – 2019/2020 | View List |
| Dip. in Bus. Admin (Accounting) – 2019/2020 | View List |
| BSc. Procurement and Logistics (2019/2020) | View List |
| BSc. Procurement and Logistics (2018/2019) | View List |
| BSc. in Bus. Admin  (Marketing – 2019/2020) | View List |
| BSc. in Bus. Admin  (Marketing – 2018/2019) | View List |
| BSc. in Bus. Admin  (Management – 2019/2020) | View List |
| BSc. in Bus. Admin  (Management – 2018/2019) | View List |
| BSc. in Bus. Admin  (HRM – 2019/2020) | View List |
| BSc. in Bus. Admin  (Economics – 2019/2020) | View List |
| BSc. in Bus. Admin  (Banking & Finance – 2019/2020) | View List |
| BSc. in Bus. Admin  (Banking & Finance – 2018/2019) | View List |
| BSc. in Bus. Admin  (Acct. with Computing – 2019/2020) | View List |
| BSc. Accounting (2019/2020) | View List |
| BSc. Accounting (2018/2019) | View List |