GCTU Commences Campus painting project
As part of the continued rebranding of the University, GCTU Management have officially initiated the commencement of the hostel and office block painting project. The project, which is scheduled to be completed in 3 months, officially commenced as Management handed over the relevant documents, including schemes and drawings, to WaxHome Ghana Ltd, who were awarded the contract through a formal tendering process.
The short handing over ceremony, which was held on Friday, 22nd October 2021, was attended by a Management team, led by the Vice-Chancellor, Prof. Emmanuel Ohene Afoakwa and supported by the Interim Registrar, Mr. Nii Adotei Abrahams, the Acting Director of Works and Physical Development, Mr. Gordon Baapiri, the Acting Director of University Relations, Dr. Nusrat-Jahan Abubakar, the Acting Director of Internal Audit, Mr. Kennedy Oppong Fosu, the Dean of Student Affairs, Dr. Michael Nana Owusu-Akomeah, and the Acting Head of Procurement, Ms. Fatu Esi Sesay.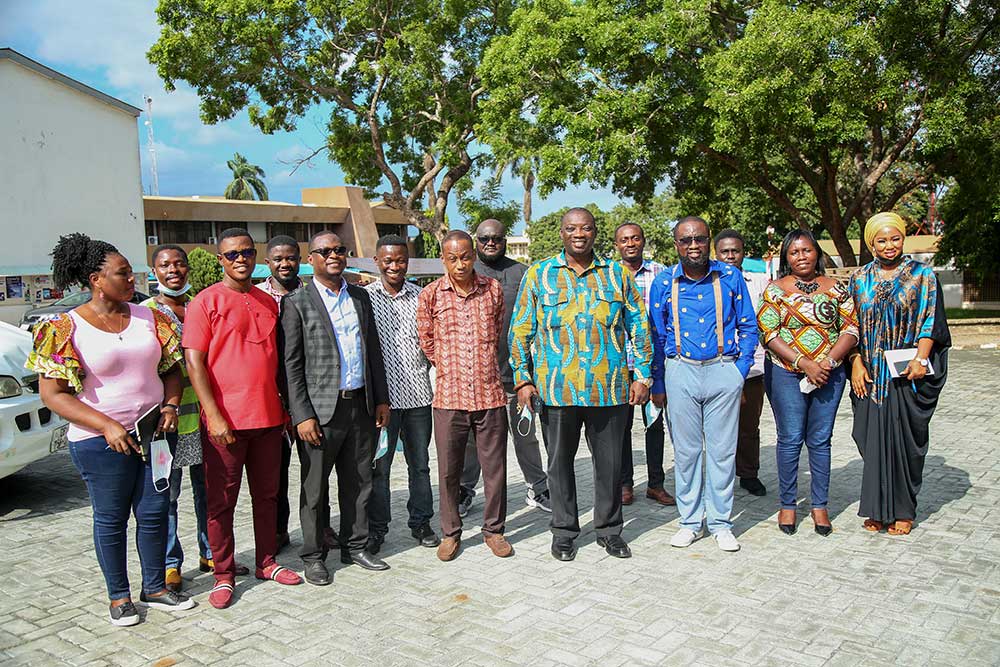 Speaking after the handing over of the documents, the Vice-Chancellor reiterated the importance of the project, emphasizing that it would serve to create uniformity and enhance the aesthetic appeal of the University, particularly as the institution seeks to further establish its identity through the ongoing mass rebranding campaign. He stated his expectation that the project would be completed in time for his Investiture which is scheduled for 18th December, 2021, especially bearing in mind that as part of the occasion, the University would be hosting many high-profile visitors. The Vice-Chancellor affirmed that he was confident that quality work would be done as he had been impressed by some of the previous projects undertaken by WaxHome Ghana Ltd.
The representative of WaxHome thanked the Vice-Chancellor for the faith placed in the company and assured those present that even before the completion of the project, the University would be physically transformed and beautified beyond expectation.
Mr. Baapiri also assured those in attendance that the Directorate of Works and Physical Development would work closely with WaxHome, and also gave his assurance that he and his team would work assiduously to supervise the project and ensure that it would be completed under the strictest quality and safety guidelines.
We look forward to the successful completion of the project and we are confident that it will contribute to the progress of the mass rebranding campaign which continues to transform the face of the University.